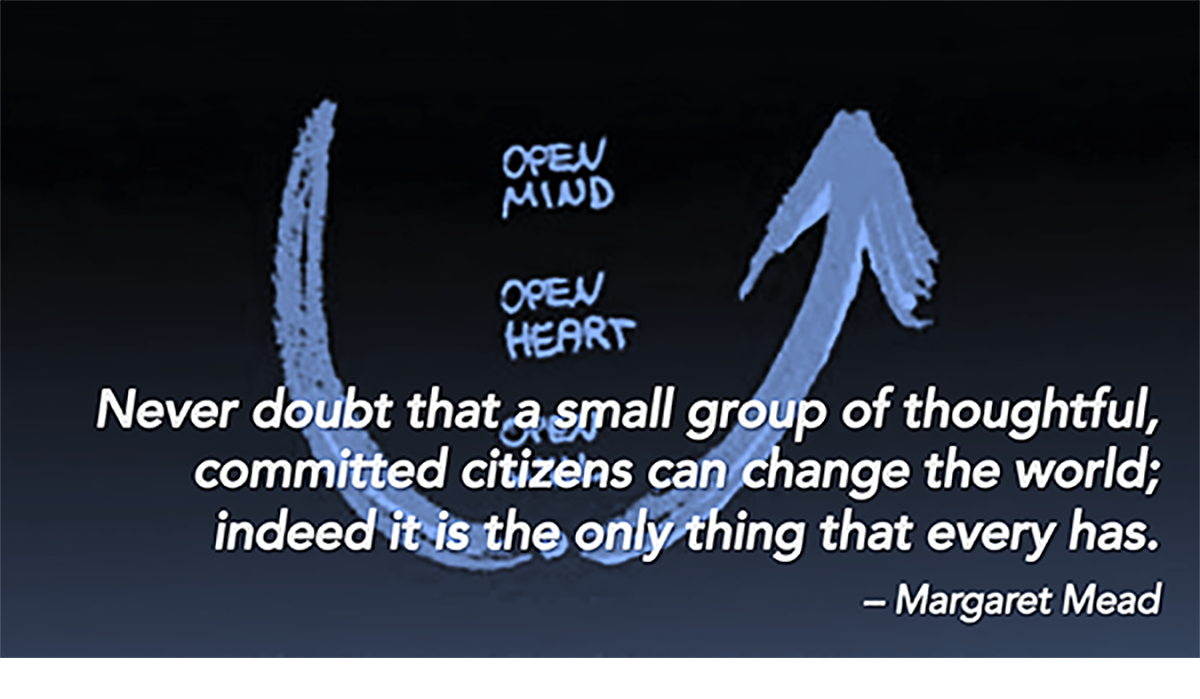 Harnessing the potential of an open mind, an open heart and an open will to co-evolve a more congruent society
How Theory U, Appreciative Inquiry and The Congruence Framework could enable a conversation to change a country
'With an open mind we can suspend old habits of thought. With an open heart we can empathise, or see a situation through the eyes of someone else. With an open will we can let go and let the new come' – Otto Scharmer
Seeing the problem…
'We cannot solve our problems with the same thinking we used when we created them' – Albert Einstein
I recently completed the edX-U.Lab course 'Transforming business, society and self' hosted by Otto Scharmer and his colleagues from MIT, an excellent course which I would highly recommend to anyone interested in changing our world for the better. The course presents Theory U as a powerful framework for thinking about the ecological, social and spiritual/cultural divides that currently plague our society. These three divides, which are represented as icebergs in the following diagram, represent the visible impact of many serious underlying global problems – disconnections between people and nature (ecological), people and people (social) and people and themselves (spiritual).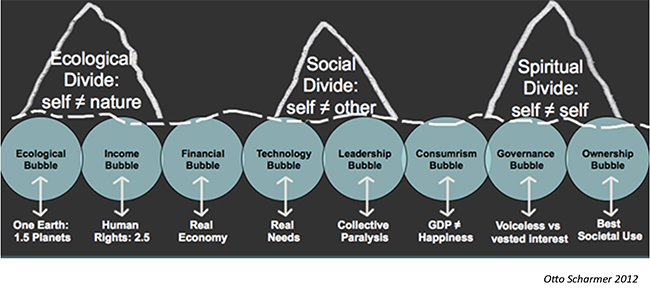 The serious and global nature of these divides is simply illustrated by the following quotes from Scharmer and Kaufer's book 'Leading from the Emerging Future':
The Ecological Divide (disconnect between self and nature):
"We are currently depleting and degrading our natural resources on a monumental scale using up more nonrenewable resources every year…we are currently using fifty percent more resources than the planet can regenerate…one third of our agricultural land has disappeared…food prices are expected to double by 2030."
The Social Divide (disconnect between self and other): "Two and a half billion people on our planet subsist on less than US$2 per day. Although there has been many successful attempts to lift people out of poverty, this number has not changed much in recent decades…in the United States the top one percent have a greater collective wealth than the entire bottom ninety percent."
The Spiritual/Cultural Divide (disconnect between self and Self): "This divide is manifest in rapidly growing figures in burnout and depression. According to the World Health Organisation, in 2000 more than twice the number of people died from suicide than died in wars."
The U.Lab course introduced a number of very effective personal and community practices that could help us to resolve those divides by connecting with our deeper self – exploring our real potential as physical and spiritual beings to emerge new ways of being present (together) in the world and to co-evolve, with other like-hearted people, the possibility of a different future together.
Framing an approach…
'Dialogue is a conversation without sides' – William Isaac
One of the delights of the U.Lab course was the opportunity to experience Theory U in practice. This helped me to appreciate the real power of empathetic listening and to understand the potential for generative dialogue to emerge new and different ways of thinking.
Theory U presents empathetic listening as an effective tool for shifting people from simple conversation into productive (reflective and generative) dialogue. This thinking is referenced in my book 'The Congruence Framework' where I suggest that dialogue is a critical factor in developing organisational and community congruence – 'the harmonious alignment of individuals with and within their communities of interest'. It is only through authentic (open and purposeful) dialogue that we can develop and sustain the meaningful relationships that enable people to participate in collaborative learning – an essential condition for building organisational and community congruence.
The other essential conditions for individual (and community) congruence are a connection to a core (shared) purpose, a deep sense of who we are and why we exist, and (shared) enabling leadership, a construct of leadership that is based on selfless service to others.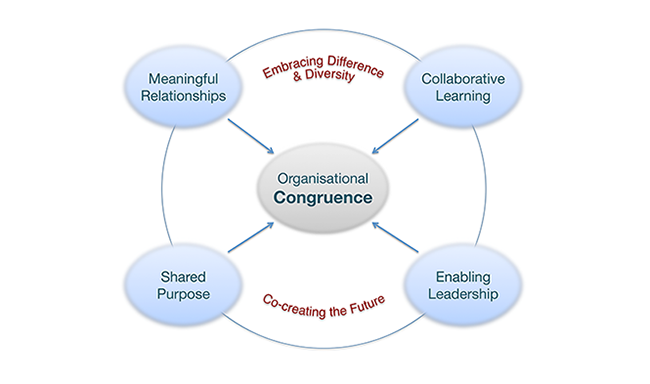 For some time now I have been engaged in trying to develop a framework for building more congruent individuals, organisations and communities – hence the book and the blog 'The Congruence Framework'.
This focus on enabling and encouraging 'harmonious alignment' between people and within their communities reflects a common view that our current societal model is severely broken and in need of urgent repair. And my personal purpose, which is grounded in selfless service to others, has driven the search for a solution framework – a way to 'frame' our thinking about individuals, organisations and communities that would influence the co-creation of a more congruent society. That framework is summarised by the following schematic, which presents the four essential conditions and five factors for building congruent organisations and communities.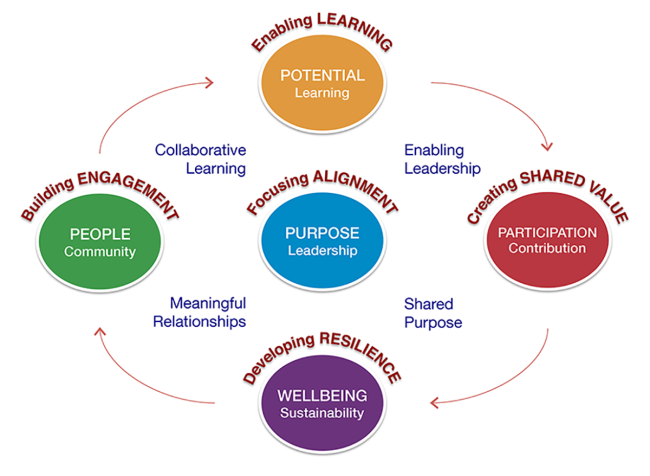 I have always understood that community congruence would need to be co-created (or co-evolved as Theory U would suggest), and the intention behind proposing a thinking or organising framework was to enable such co-creativity, but not to limit or constrain the potential for multiple different and evolving solutions to emerge. It is therefore interesting for me to connect the thinking behind The Congruence Framework with the intention and practice of Theory U and I am excited about the alignment.
The framework focus on Purpose and Leadership emphasises the need for a deeper enabling connection to Self, which lies at the heart of Theory U, and reflects a similar focus on the Spiritual/Cultural Divide. The framework focus on People & Community reflects an aligned focus on the Social Divide and the focus on Wellbeing and Sustainability is aligned with a focus on the Ecological Divide. Theory U is essentially a co-learning model and the U-process presents an approach that is consistent with the framework thinking about Potential & (Collaborative) Learning. And the framework focus on Participation & Contribution connects with the U-process focus on emerging outcomes – co-creating and co-evolving solutions, exploring new ways of 'being' together.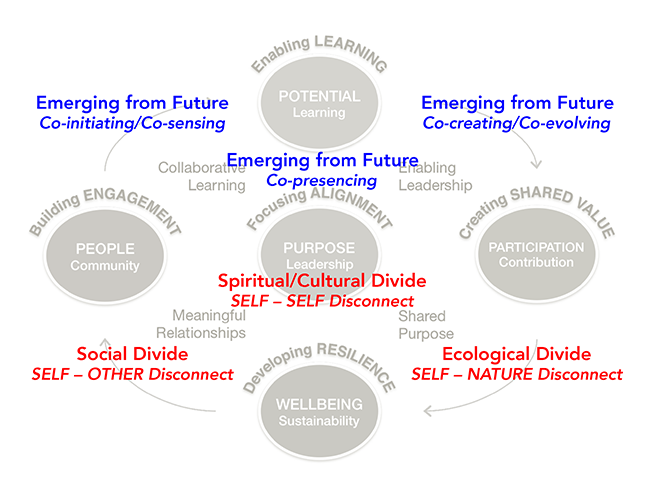 Developing an idea…
'I alone cannot change the world but I can cast a stone across the water to create many ripples' – Mother Theresa
Not surprisingly, my intention for the U.Lab course was the co-creation of a more congruent NZ community, which is evident in my prototype question – "How can we initiate a conversation to change our country?" – a prototype to explore opportunities for resolving the current spiritual/cultural, social and ecological divides within the New Zealand community.These divides are clearly evidenced (for example) by our appalling levels of child poverty (one in four children); our recent placing amongst the highest income inequality growth in the OECD countries; our very high rates of youth unemployment; our unacceptable domestic violence statistics; etc.
My prototype expresses a belief in community conversation as the way to initiate such a change – not just any form of conversation, but a conversation with the potential to initiate and sustain an authentic and open community dialogue. And my U.Lab experience has suggested how such a conversation, framed by The Congruence Framework and using Theory U practices, could 'emerge' new pathways for positive change.
Those familiar with Appreciative Inquiry (AI) will understand the power of the 'right' question to give intention and momentum to such conversations. Like AI, The Congruence Framework is also enabled by questions that are intended to focus conversational attention on the key factors for developing congruence. By hosting these conversations we could provide the opportunity for an expanding generative dialogue, exploring opportunities to resolve the social, ecological and spiritual divides that cause our community such pain.
If we could catalyse the initiation of multiple community conversations about these divides and disconnects within our community, and interconnect the ideas, prototypes and initiatives the ensuing dialogue could generate, we may release the real potential of our people to co-create (or co-evolve) a different future for themselves.
(For more about the potential to integrate Appreciative Inquiry with The Congruence Framework you could refer to an earlier post – Appreciative Congruence – the art of creating harmonious communities.)
Launching conversations…
'The real voyage of discovery consists not in seeking new landscapes, but in having new eyes.' – Marcel Proust
Five questions for a community in conversation about the possibility of a different future together
1. What is our shared intention for this community? (a question about purpose and leadership)
According to Congruence Framework thinking, hosting (holding the space for) a community conversation with the potential for generative dialogue requires the participants to have meaningful relationships – trust based relationships that share a common purpose and expect the co-creation of equitable-shared value. This shared purpose (some may call shared intention) is also necessary to underpin and interconnect the many conversation threads that will emerge as diverse perspectives are engaged in generative dialogue – the co-generation and exploration of multiple ideas, prototypes and initiatives for a different future.
The first question is designed to emerge a shared intention for the future of the community – to discover the shared purpose that will energise and guide the community in an expanding conversation about their possible future.
2. How can we open the minds, hearts and wills of our community? (a question about potential and learning)
This question addresses the conversational process that will develop and grow our community conversation. The opportunity here is to engage the Theory U notion of 'coaching circles' – small groups of five to seven people that use Theory U practices to emerge new ways of thinking about specific 'cases' – challenges that confront us as individual collective members of our communities of interest.
These coaching circles, which could focus attention on a widening range of 'community disconnects', provide the opportunity for people to experience a deep and expanding engagement with people who share their own particular areas of concern (for example child poverty, education, health and wellbeing, the economy etc.). And if these many circles were connected to a 'conversation hub' then the interconnection and sharing of circle ideas and outcomes would most likely expand the conversation and further increase the momentum for change.
The positive energy generated within these small circles of conversation would not only expand the potential for co-creating and exploring multiple new ways of 'being in community', it would also help to generate a new momentum for change by increasing community awareness of the possibilities for a different future.
The next three questions are designed to frame or theme the circle conversations. The intention is not to constrain the circle conversations but rather to propose a way of connecting and integrating (framing) multiple circle conversations. These five questions also foster 'congruence framing' by focussing attention on purpose, potential, people, participation and wellbeing.
3. How can we build a more connected community? (a question about people and relationships)
4. How can we co-create a more equitable society? (a question about participation and contribution)
5. How can we ensure a sustainable future for our people? (a question about wellbeing and sustainability)

If you are interested in participating in a conversation about the future of our country please fell free to comment on this post or connect with me via LinkedIn.
'When I let go of what I am, I become what I might be' – Lao Tzu